I have made some awesome blogging friends. Really. When I started this blog, I did not expect to meet and collaborate with such awesome people. But that's what happened... and I love it.
Just Peachy in Dixie and I have been bloggy buddies from the get-go. So when she suggested a blog linky party, I was down, as the cool kids say.
Oh, I've just been informed that the cool kids no longer say that. Do they still say 'radical'? Radical.
Join our blog hop!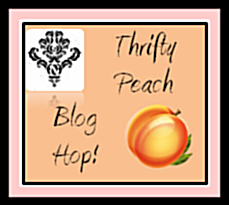 We will be hosting this blog hop every Tuesday. We welcome all family friendly links. We would love to hear about your homemaking tips, frugal living ideas, crafts of any genre, recipes, homeschooling or encouraging inspiration. The rules are simple, follow the two host blogs, "

Just Peachy in Dixie

" and "

Thrifty Crafty Girl

" in spots one and two through GFC

and

please put our button somewhere on your sidebar or blog hop page to help spread the word. Then link as many posts as you would like.


Link up with us! I will personally visit each and every blog that links up, and since I've yet to find a blog I didn't like, I will most likely follow you! Unless your blog is about underwater basket-weaving, a subject about which I know very little. OK, I'll probably follow that one too. Hop away!