**This was a guest post I did over at Darling Doodles, just in case you missed it!
Hello Darling Doodle readers! I'm thrilled to be guest posting over here today! Did you know that when you guest post for someone, you can walk around your house all day wearing a tiara? Yeah, my family didn't know that either. Let's talk Christmas gifts!
Recently, on a 'how-long-will-this-last?' conversation with my mother, she suggested that my sister and I, along with my mother and my aunt, draw names for Christmas so we only have to get one present for the family. She had me at the words 'Secret Santa'.
To give you some background, my mother collects things. She's not a hoarder, to be sure, but she has way too much stuff. And wouldn't you know it, I drew her name for the Secret Santa. In not wanting to contribute to the clutter that has become her home, I decided to make her gift a small one, at least in size.
I had some clear ornaments (bought during last year's clearance sale at Michael's) and some white and black acrylic paint. I grabbed them and went to work.
We're a fun couple.
After it finally dried, I had my oldest son post for a profile picture. He, being already six years old, was very accommodating to my request... my two-year old, not so much. At any rate, I got a good profile picture of him and printed it out. I used my craft knife to cut out his cute little head and then taped the picture to the ornament. Confused? Here's a picture:
I took off the paper and used a toothpick to sharpen up the edges. And that was it... after a billion days of drying, and five minutes of actual work, her secret Santa gift is done.
I hope you'll come visit my blog soon! I'm much funnier than you'd think, really... unless you ask my husband who doesn't find me funny at all. But what does he know? :)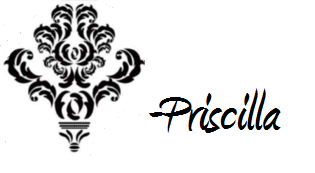 Linking up at...